Comprehensive Immigration Solutions
To Sponsor or Not to Sponsor… an H-1B
Given H-1B lottery registration opens on March 1, 2020, now is the time that many employers are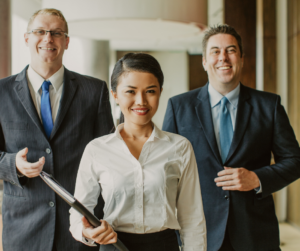 approached by foreign national employees about potential H-1B sponsorship. For companies that have never sponsored an H-1B, the process can seem costly and daunting. The sponsorship process can cost several thousand dollars and involves various steps. Moreover, the overall H-1B approval rate is approximately 66%. It is important to work with your attorney in understanding the mechanics of properly petitioning an employee for H-1B. However, before diving into the H-1B sponsorship process, employers should consider whether this visa is right for their company.
Staffing Needs
In deciding whether to sponsor an H-1B visa, companies should first evaluate their staffing needs. A position that requires a specific academic background or a certain level of expertise may be challenging to fill. Accordingly, qualified U.S. workers may be unavailable. The H-1B visa is one of the only visa types that gives employers an opportunity to hire overseas professionals from any country to complete projects and fill specialty positions.
Moreover, the H-1B visa is a fantastic opportunity for employers to retain employees long-term.
H-1B visas are typically issued for a period of 3 years with an opportunity to extend for another 3 years.
If the H-1B beneficiary is also a beneficiary of an employment-based green card, the H-1B visa can be
extended for a period beyond 6 years. Given that some employment-based green cards have waiting
periods that can exceed 10 years (depending on the nationality of the individual being sponsored),
having an opportunity to maintain an employee in H-1B status beyond 6 years can be crucial.
Accordingly, sponsoring an H-1B visa may be a great long-term opportunity to retain foreign nationals
who may not have a method of otherwise maintaining legal status.
Lottery
The H-1B visa also has a number of drawbacks including the limited number of visas available.
The demand for an H-1B visa is usually almost three times the number of visas available. Because of this
high demand, USCIS has decided to conduct a lottery to decide who may submit full H-1B applications
for adjudication. If your H-1B beneficiary is not selected in the lottery, the company may not be able to
submit a full application until the following year. Given the limited opportunity to apply for an H-1B
visa, employers should evaluate whether prospective H-1B candidates can maintain another status or
wait a full year before entering the H-1B lottery.
Cost
Employers are required to pay the vast majority of costs associated with the H-1B filing,
including legal fees. The overall fees can amount to several thousand dollars depending on the size of
the company and other factors.
In addition, a sponsoring H-1B employer must pay the prevailing wage or higher to their H-1B
beneficiary. Many employers find that this wage may be higher than that being paid to other U.S.
workers in the same position. Accordingly, employers must assess whether they can financially manage
the prevailing wage for the specific position and the impact that a potentially higher wage paid to an H-
1B beneficiary will impact their team.
How Agarwal Law Group Can Help
Deciding whether sponsoring an H-1B visa can be a difficult decision for many employers. Our
team can help companies understand H-1B eligibility requirements and process and determine whether
the H-1B visa is the correct fit for both the employer and prospective H-1B candidate. Please do not
hesitate to contact us if we can help in making this difficult decision.
Pratibha Agarwal, Principal Shareholder
Agarwal Law Group
4601 N. Fairfax Drive, Suite 1200
Arlington, Virginia 22203
(703) 348-1663
[email protected]